Welcome to Noboribetsu!
Noboribetsu is widely known and appreciated as a Hokkaido's top-grade "onsen" (hot spring) resort, located in the south-west of the prefecture sitting on the part of majestic mountains "Shikotsu-Toya National Park".
What's special about Noboribetsu?

Japan's most known "onsen" (hot spring) with 9 different minerals in close proximity to untouched beautiful natural surroundings.

Easy access from everywhere to the unique and majestic views in a Hokkaido country town.

Dairy farming and fishery with quality in the extremely fortunate natural environment.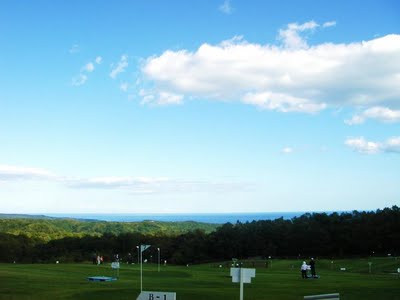 Noboribetsu city of approx. 50,000 in population hosts over 3 million annual visitors from across the country and around the globe. The vibrant city is renowned for its hot spring resort, fun amusement parks, as well as fresh seafood. Tourism is the largest industry and we also have grown as a commuter city to our neighbor, Muroran, a heavy industry center in Hokkaido. Noboribetsu is willing to accommodate and entertain you with a spirit of "omotenashi" (hospitality). With rich natural resources and good weather condition all through the year, Noboribetsu offers comfortable lifestyle.
Noboribetsu Facts&Figures (As of September 2014)
Population & demography
Population: 50,657
Male: 24,154 / Female: 26,503
No. of household: 25,051
Land & Climate
Land area: 212.21 sq.km
Average temperature: 7.1℃
Highest temperature: 30.1
Lowest temperature: -15.2
Precipitation: 1463 mm
Industry
Dairy farming: Highland region of Noboribetsu is well-suited for dairy farming and outdoor activities. Locally made full-cream milk, cheese, ice cream, and sausages are among the popular local gourmets and loved by both locals and visitors.
Fishery: Our 3 fishing ports faces the Pacific Ocean and land fresh calamari, surf clam, Alaska pollack, hairy crab, flatfish, salmon, and more. Sunday morning market near JR Noboribetsu station is always popular. Absolutely heaven for seafood lovers!
Tourism: Noboribetsu is a popular destination for relaxing holiday and fun family time. This is a place to experience the best quality of hot spring in both natural environment and comfortable premises.
Natural symbols of Noboribetsu

Flower: Chrysanthemum
Tree: Oriental Plane Tree (Platanus)
Floweing Tree: Azalea
Our sister & friendship cities
Shiroishi, Miyagi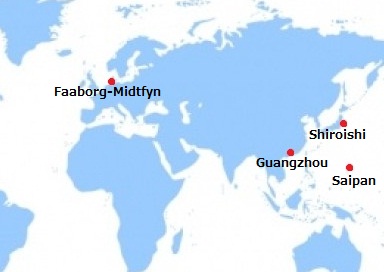 Our overseas friends:
Faaborg-Midtfyn Municipality, Denmark
Saipan, The Commonwealth of the Northern Mariana Islands
Guangzhou, Guangdong Province, People's Republic of China
Reasons why you must visit Noboribetsu
Because this is the best place to...
unwind in a warm"Onsen" hot spring and go ahhhhh...
"Onsen" is an icon of Japanese culture. We find every reason to go to "onsen", stress reliever, dating, family holiday, and so on. The minerals in the water have positive therapeutic effects on for example skin disease, arteriosclerosis, rheumatism and shoulder, neck and wrist pains, etc. Many visitors have a long holiday and receive the health benefit of "onsen".
explore 3 great theme parks
Noboribetsu proudly presents 3 amusing and educational parks; Bear Park to learn, observe and feed brown bears, Marine Park NIXE to enjoy the popular penguin parade, Date Jidaimura to time-travel to Samurai and Ninja era! Suitable for families, schools, tour groups.
be among the crowd in the scene of red hot festivals
Come and join the dancing crowd at the Hell Festival in summer, or get a splash of warm water at Hot Spring Splash Festival in the freezing February. Amongst annual events and festivals, fireworks at the Hell Valley or Port Festival are also very entertatining.
indulge the beauty of the Toya-Shikotsu National Park
Walk, feel, and smell in the natural forest, or on the greenery highland, or along the shoreline of the Pacific. Many places have unique natural setup and look totally different from the typical Hokkaido images which you often see in your guidebook; red rocky "Hell Valley", boiling "Oyunuma" lake, bright green grassland looking over the blue Pacific, school of chum salmon swimming back home river in reverse flow, and more!
For the detailed information, please visit Noboribetsu Tourist Association Website >> English Korean Traditional Chinese Simplified Chinese
How to get here
JR Hokkaido train and Donan/Chuo bus are the main public transportation for visitors. Also many visitors prefer to drive for more flexibility.
From New Chitose Airport
Approx. 40 minutes by JR express train, Limosine bus, or drive via Hokkaido Expressway.
From Sapporo
Approx. 1hour10minutes by JR express train, 2 hours by limosine bus.
For a driver:
If you drive on Hokkaido Expressway, get off at exit 9 for "onsen" (hot spring) and theme park and at exit 10 for business and residential area.
Links to JR Hokkaido's timetable: English Traditional Chinese Simplified Chinese Korean
Links to New Chitose Airport website: English Korean Traditional Chinese Simplified Chinese 
Should you require further information, please contact via email at kikaku@city.noboribetsu.lg.jp